Makari Extreme Active Intense Unify & Illuminate Tone Boosting Body Milk
---

Free shipping (D & A)
Same Day Shipping (1-2 days)

Directly from the manufacturer
---
Normal price

€82,00 EUR

Selling price

€78,99 EUR

Base price

 pro 
incl. VAT plus  
Shipping costs

Healthy, fresh, smooth and flawless skin thanks to Body Lotion Makari Extreme
This herbal and vitamin-rich body brightening lotion effectively lightens pigmentation spots and blemishes for an even, flawless-looking complexion.
The lotion must be used with glycerine or vegetable body oil to keep the skin well moisturised.  
This is a BODY ONLY product.
PLEASE DO NOT USE ON THE FACE
Lightens the skin tone.
Promotes a flawless, evenly toned complexion.
Nourishes and softens the skin.
For all skin types except sensitive skin.
Note
The Extreme collection is not recommended for sensitive skin types or first-time users of Makari products. The formulas are very potent and may cause irritation, inflammation or breakouts. If irritation, inflammation or breakouts occur, discontinue use immediately. We recommend that first-time users start with the Naturalle or Classic Bright Skin collections before moving on to the Extreme collection.
Excessive use can damage the skin.
Do not use for more than 3-4 months in a row.
Package contents
16.8 oz | 500 ml
Recommendation for use
First apply Toning Glycerin, Extreme Botanical Body Oil, BeBe Almond Massage Oil or another vegetable oil to the freshly cleansed body.
Apply 3 times a week evenly to the body at night.
Apply sparingly to areas such as inner arms, thighs and legs.
It is recommended to use a Naturalle SPF 15 Toning Cream or sunscreen during the day according to the skin type.
Use Voile de Corps hand and body lotion on alternate nights to moisturise the skin.
Use Clarifying Cream and Exclusive Toning Serum to lighten ankles, elbows, knees and toes.
Make sure to leave out the area around the eyes generously. 
The product is completely natural and thus does not contain any chemical ingredients or additives. This makes the application particularly safe and skin-friendly and also well suited for people with sensitive skin or allergy sufferers.
Body Lotion Makari Extreme has also been used very successfully for mature and dry skin, thanks to the highly effective and nourishing ingredients such as argan oil, carrot oil or skin-lightening milk. In addition, the product is enriched with Organiclarinen, an all-natural, biologically active whitening agent.
Hyperpigmentation, scars, acne or dark spots of other causes will thus be permanently reduced with daily use.
Body Lotion Makari Extreme is gently massaged into the skin daily.
The first positive results can be seen after just a few days, according to the experience of many satisfied users.
Natural antioxidants and vitamins C and E provide a maximum anti-aging effect. The result is a perfect, fresh, youthful appearance and a beautiful, firm skin texture.
Annoying unevenness and discolouration of the skin will soon be a thing of the past with regular use.
Of course, the Makari Extreme body lotion does not contain harmful bleaching agents, hydroquinone or other chemicals. This guarantees gentle skin friendliness for daily use.
The application is very simple. Body Lotion Makari Extreme is simply massaged gently onto the desired areas of skin on the body.


Share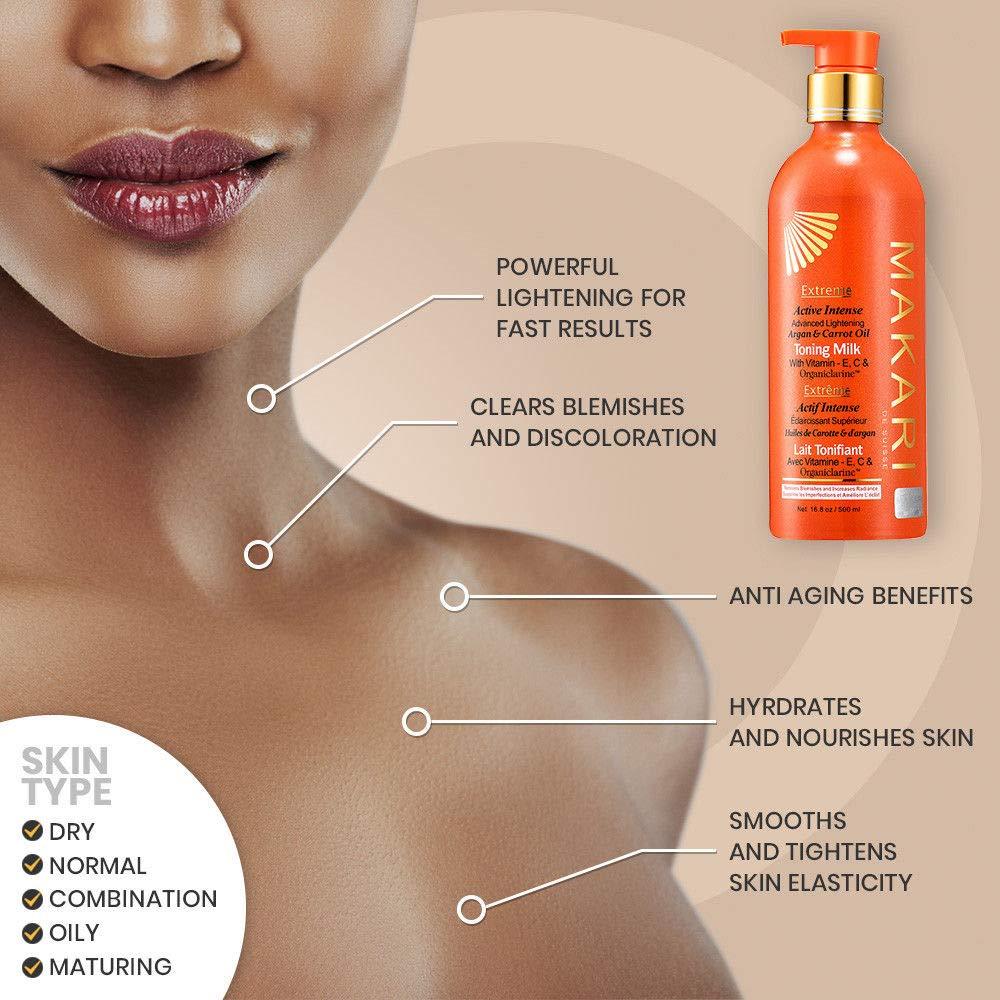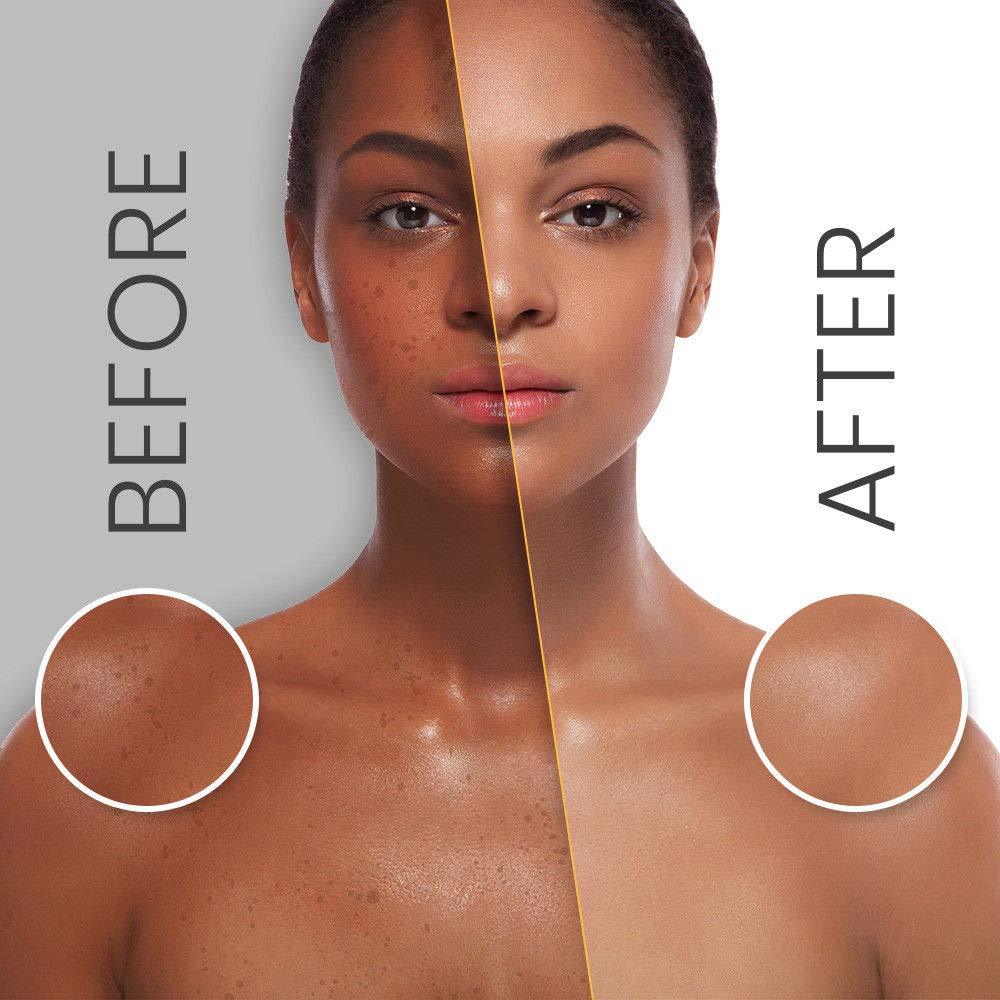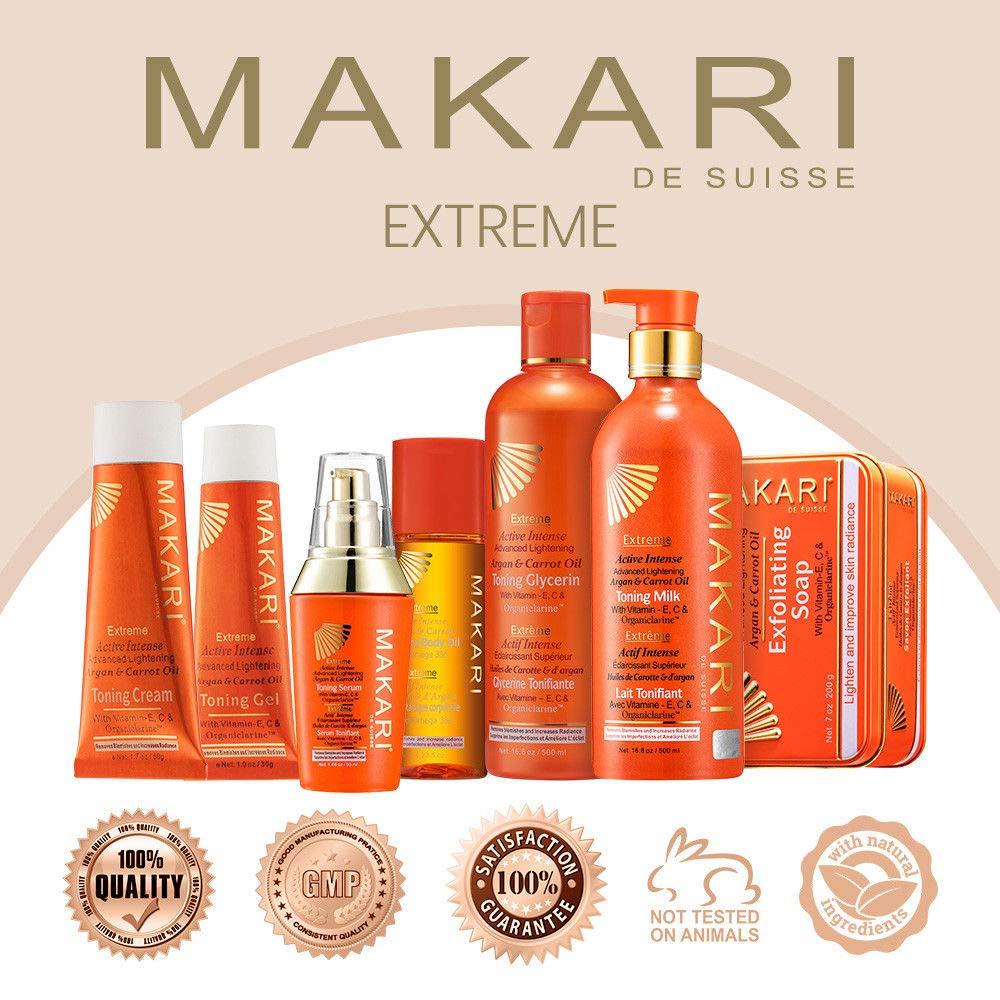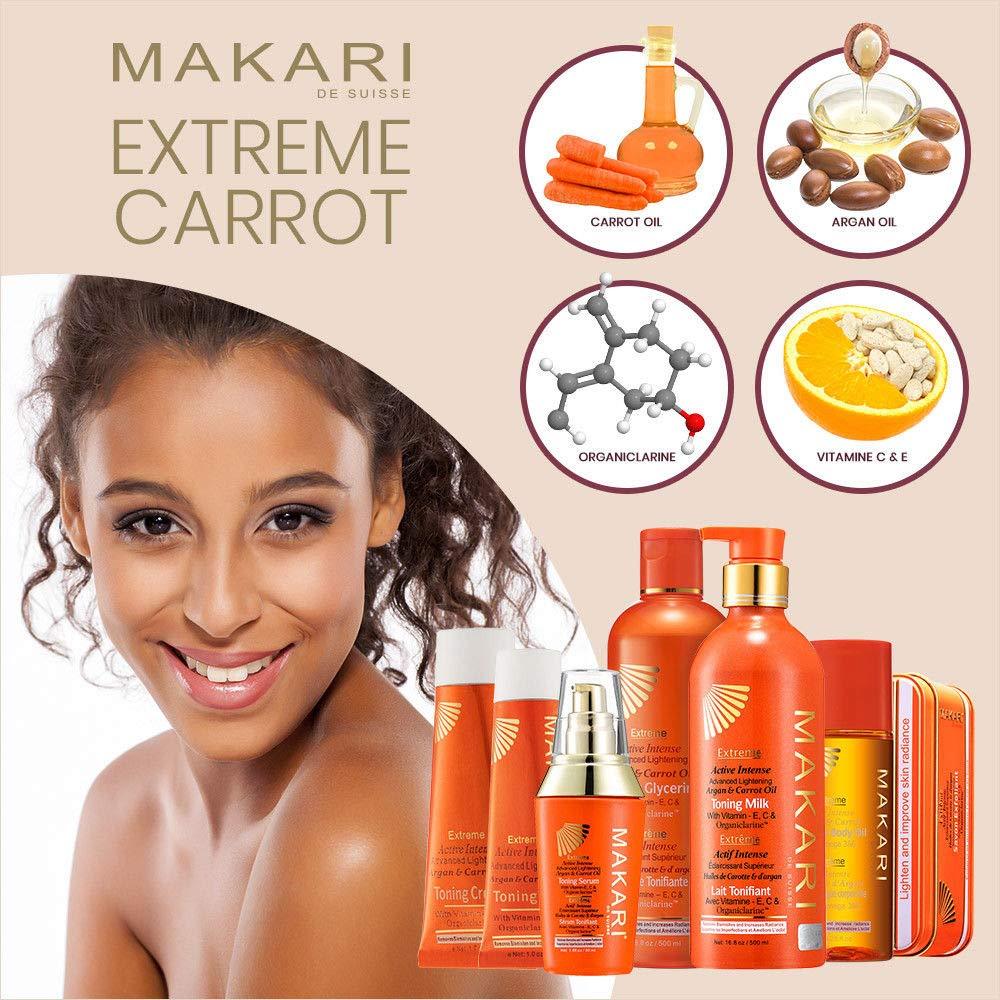 You look good
Schnelle Lieferung. Authentische Produkte.
Ich bin sehr zufrieden.Lieferung war schell.
Makari Extreme Active Intense Unify & Illuminate Tone Boosting Body Milk
Let customers speak for us