Kojisäure Seife | Kojic Acid Soap | 200g Original YLKgood Skin Lightening Soap mit Kojic Acid
---

Free shipping (D & A)
Same Day Shipping (1-2 days)

Directly from the manufacturer
---
Normal price

€21,99 EUR

Selling price

€13,99 EUR

Base price

€7,00

 pro 

100g
incl. VAT plus  
Shipping costs
JETZT NEU: 100% mehr Inhalt. 200g
The Kojic acid soap - Kojic acid soap
Our Kojic Acid Soap is specially made to brighten and even out skin tone. It brightens and evens out the skin tone. It also helps to significantly reduce acne scars. With daily use, the soap helps prevent future breakouts. It is ideal for medium to dark skin tones and is made from pure kojic acid.
Suitable for use on the face and body
The moisturising glycerin contained prepares the skin for maximum absorption of the kojic acid.
Reduces the appearance of age spots, freckles and other signs of sun damage
Reduces the appearance of red spots and scars
Continuous use for a more beautiful skin appearance
Recommendation for use
Hyperpigmentation (uneven skin tone/discolouration), melasma, dark spots (in areas such as inner thighs, armpits, elbows, knees and ankles), old scars, burn marks, blackheads, whiteheads, sun spots, liver spots, age spots and keratosis pilaris scars can also be significantly reduced with the kojic acid soap.
Effectively
Kojic acid inhibits the formation of tyrosine, an amino acid needed for the production of melanin. Because kojic acid inhibits the production of melanin, kojic acid can have a lightening effect.
This makes kojic acid soap very useful in reducing hyperpigmentation and dark spots on the skin caused by acne scars, sunburns, any form of unwanted pigment darkening, so to speak. This can lead to an anti-aging effect on the skin.

Ingredients

Water, Koji Acid, Gycerin, Sorbitol, Propylene Glycol, Stearic acid, Citur Auratium Dulcis (Orange), Schalenol, Sodium Laureth Sulfathe, Lauric Acid, Sodium Hydroxide, Sodium Lauryl Sulfate, PEG-80 Sorbitan Laurate, Disodium EDTA, Vitamin C, Vitamin E, BHT, Titanium Dioxide, CI 19140, CI 16035.

Application

Lather the soap and apply to the areas to be treated. Leave on for up to 30 seconds. Use once daily and increase to twice daily if well tolerated. If dryness occurs, reapply with a moisturiser.
Empfehlung

Vor der Anwendung einen SPOT-TEST durchführen, um die Empfindlichkeit wie folgt zu testen: Die Seife aufschäumen und auftragen. Bis zu bis zu 30 Sekunden lang auf die vorgesehene Anwendungsstelle lassen. Falls Ausschlag, Brennen, Kribbeln oder Entzündungen auftreten, sollte die Seife sofort von der Haut entfernt werden und die weitere Anwendung sollte eingestellt werden.

Wichtig

Alle Produkte zur Hautaufhellung sollten in Verbindung mit Sonnenschutzmitteln verwendet werden.
Package contents
1 Stück, je 200g
Share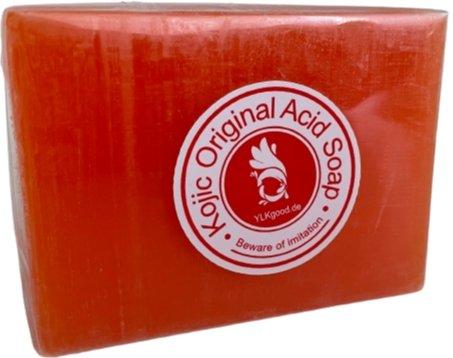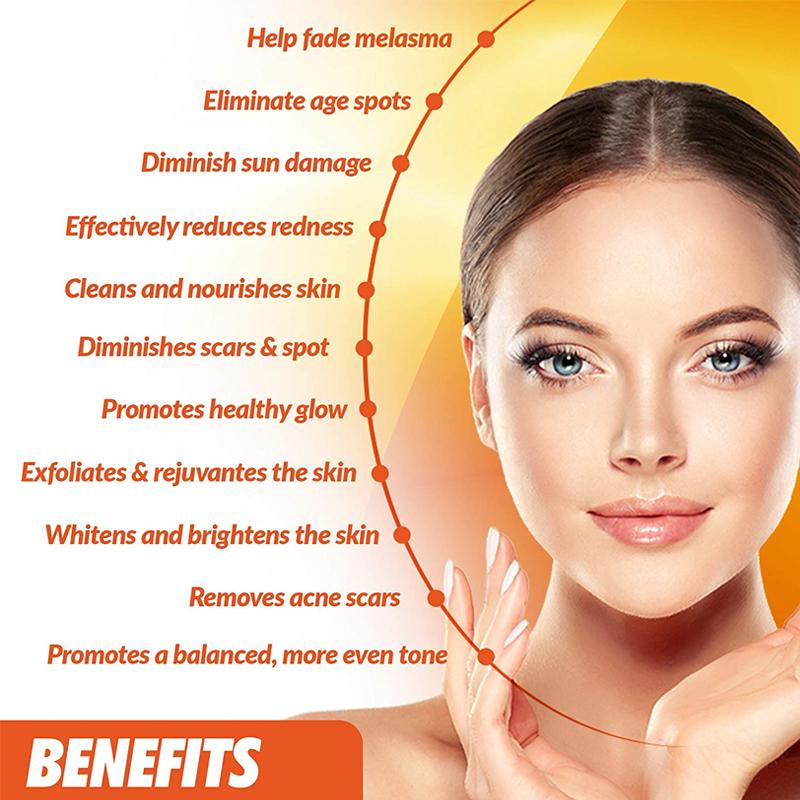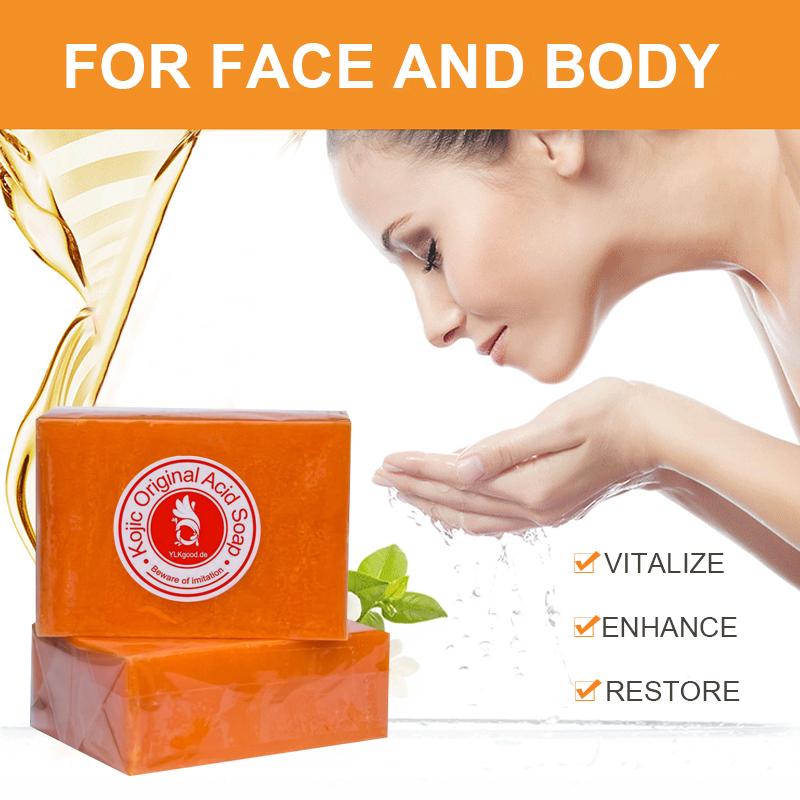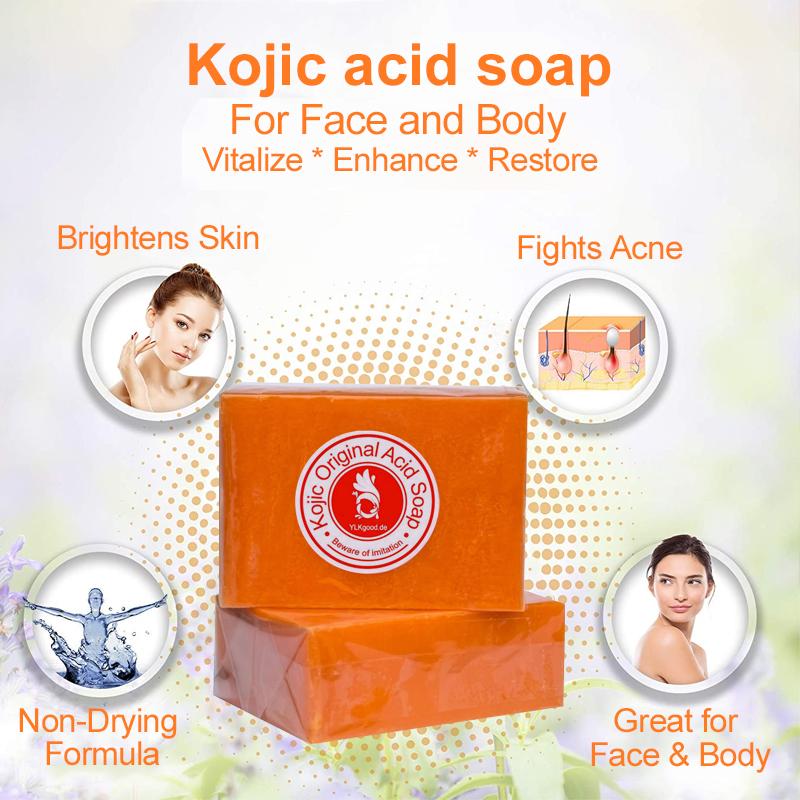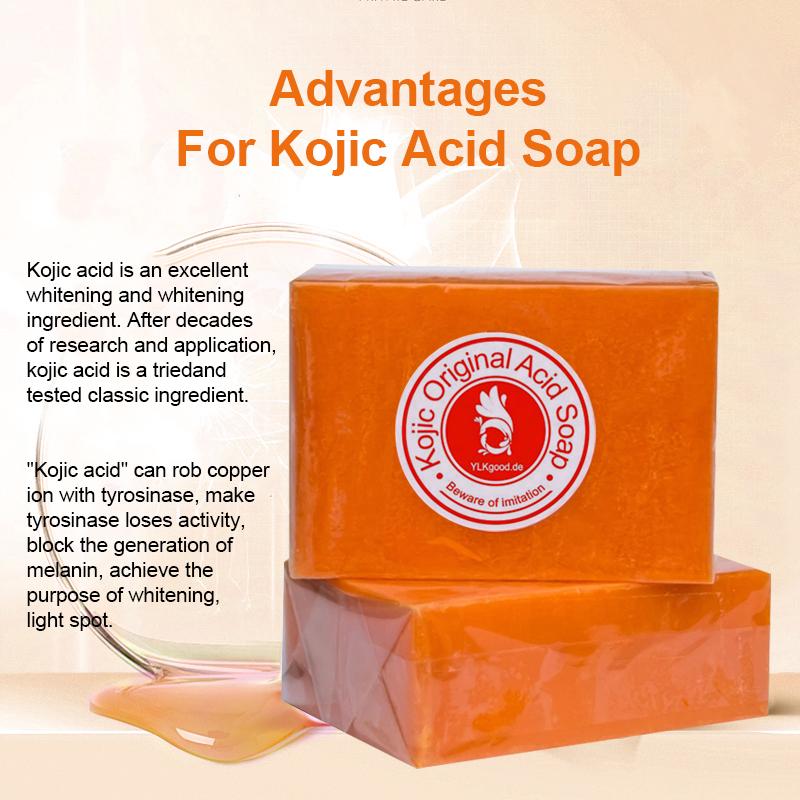 Kojic Acid Soap | 125g Original YLKgood Skin Lightening Soap with Kojic Acid
👍🏻
Bis jetzt hatte ich keine Probleme mit der Seife. Ich werde sie auf jeden Fall weiterhin benutzen, um zu sehen ob es Verbesserungen geben wird.
GREAT ALOE VERA CREAM, I AM THRILLED
Let customers speak for us